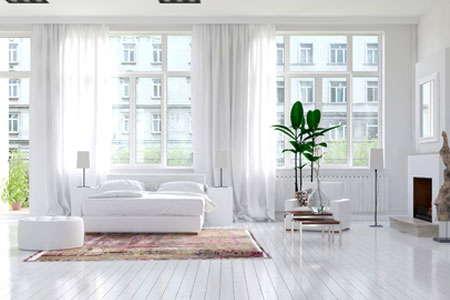 Out of The Dark & Into The Light
Imagine: you stranded inside of a dark, gloomy room. With minimal light, the room can feel heavy, and it can even begin to weigh on your emotions. Much like color theory, the lighting within a room can have an effect on our feelings and the way we perceive a space. Now imagine, you have the opportunity to make the space feel bright. Where would you even begin? If you feel challenged when it comes to brightening a space, do not worry! Like with any design, it takes practice. To help you create a bright, airy space, we have provided six tips that we find rather useful. Our hope is that these tips will help take your gloomy space an transform it into a dreamy oasis. 
Out of The Dark & Into The Light
Windows.
Ironically, your windows may not be letting in a lot of light. It is essential to make sure that your windows are clean and free of dirt and debris. Also, you want to make sure that you do not cover them with heavy, dark window coverings. Instead, you will want to use window coverings that are sheer and light in color. Depending on the amount of privacy you desire, you could even leave the window bare. Bare windows allow natural light to flood the entire space, making for a light, airy feeling. But again, if privacy is a restriction for you, you can utilize curtains at night and leave your window curtains open during the day to help brighten the space.
Paint.
Rooms that are painted a medium to dark color are a surefire way to make the room appear cold and even gloomy. Experts recommend painting the walls with light, neutral-tone colors, and painting the baseboards and trim a bright white. The light color walls will help reflect the natural light from the outdoors and make your room more aesthetically pleasing. 
Lighting.
Artificial lighting can be a lifesaver for nighttime when your window's natural light will not help out the room. Table lamps with white or off white shades tend to put off more light than dark lamp shades. You could even be a bit more daring and experiment with shadeless light fixtures for optimal lighting. Also, light fixtures that feature a metallic or shiny metal finish can help reflect the lighting and ultimately brighten the room. 
Furniture.
Dark and bulky furniture can overtake the room, making it appear much smaller. Experts recommend opting for light furnishings to help open up the space. You can even incorporate glass pieces to reduce visual interruptions. Lastly, furniture that has legs can also help the room feel taller which in essence, makes your space feel bigger. 
Mirrors.
Everyone knows that adding mirrors to a space makes the room appear larger. Mirrors reflect natural and even artificial light to make the room look much brighter. By incorporating a mirror with a frame finished in gold or silver, you can add just a little bit more shine and brightness to your space.
Greenery.
Do not forget to bring in your favorite greenery to finish off the room. If the room appears to be small, find a corner or nook for a tall plant in a sleek white or cream container. A tall plant will give the illusion of height and create for a much more aesthetically pleasing room. Not to mention, plants are soothing and calming which helps to balance off the room and adds the perfect finishing touch. 
Do you have any hacks for brightening a dark space? We would love to hear your ideas in the comment section. Thanks for reading!