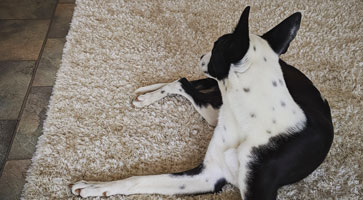 Carpet is a timeless flooring option that businesses and homeowners continue to love. It comes in many diverse styles with added benefits. That is why it is no surprise that the popularity continues today as we see advancements in fiber technology and resistance to staining. However, like any flooring option, carpet has its own set of pros and cons. Let us explore both to see if carpet is right for your home.
PROS
Comfort
Carpet is one of the most comfortable flooring options on the market. When paired with a heavy 8 oz pad, it is unrivaled by any flooring option for comfort. This feature can make the coziness from your ground spread to other areas of the room, creating a comfortable oasis.
Options
Carpet also comes in a wide variety of colors, patterns, and textures. The endless options make finding the perfect carpet to complement your house easy. Plus, with so many diverse styles, carpet is versatile enough to work with any design theme.
Warmth
Carpet is also a very cozy and warm flooring option. Rest assured that you can wake up and walk around your home barefoot without getting cold feet. It is an excellent insulator and stays warm all year round.
CONS
Stains
Technology improvements are making carpets better at being stain resistant. From solution-dyed fibers to stain guards, carpets have come a very long way. However, carpet fibers can still stain. This feature may be a concern depending on the environment that you are looking to have it installed.
Seams
Carpet is typically manufactured in twelve-foot-wide rolls. This feature means any room that is over twelve feet in width or length is going to need a seam. It is also directional, which means your carpet will have cross seams as well. No seam is 100% invisible, so you may need to consider this depending on the application.
Traffic Patterns
Some carpet can wear down and matte. The resilience is much better in nylon carpet than polyester, yet you may begin to see traffic patterns. Note that all carpets are made different, and some can help prevent this better than others.
Water
We are beginning to see waterproof carpets, just starting to enter the market. However, many carpets are not waterproof and can be ideal for bacteria to form. It is best to keep carpet away from wet areas.
All and all, carpet is an excellent flooring choice. It is incredibly versatile and adaptable for many environments. Keep in mind that different qualities of carpets can handle situations differently. Be sure to talk to your sales representative about the right carpet for your lifestyle.