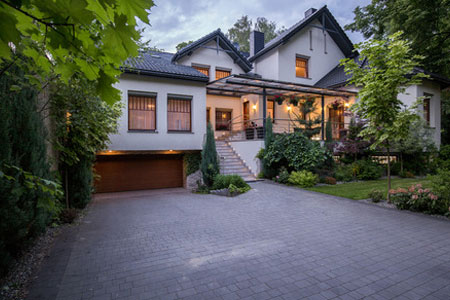 Five Ways to Boost Your Home's Value for Resale.
Ready, set, go! When you put your house on the market, it is like a race to the finish line. You want to sell your home in the shortest amount of time and for the best price possible. Why is it important to have interest and offers quickly? Because the longer your house sits on the market, the less appealing it becomes to buyers. Also, the more offers you inspire, the better your odds of getting close to your asking price. So, how can you increase your odds in this particular real estate sweepstakes? Take the time to spruce up your curb appeal and make a few key changes to your home's interior before you put your house on the market. Here are five quick fixes that can boost your home's market value for sale:
Declutter
Anyone who has ever watched an episode on HGTV can tell you that clean, uncluttered spaces reign supreme. Did you ever notice when a house is unveiled on a television show that there are no toys strewn about the floor, no stacks of magazines on the counter, no mismatched books sagging from shelves, and a minimal assortment of doo-dads and knick-knacks? To get this clean look, you will want to clear off your countertops, un stuff your bookcases, gather toys, minimize collectibles, and remove about half of the contents of every closet.
Neutralize
Before you put your house on the market, you should try to create a somewhat "blank canvas" in which potential buyers can then imprint their own ideas and style. A fresh coat of paint can give your home a clean, crisp finish and also neutralize your decor. And if hunter green carpeting was all the rage when you bought your house, you might want to consider replacing those carpets with a simpler tan to neutralize and update your interior.
Lighten Up
Let there be light… and lots of it! Few things are more welcoming, refreshing, and appealing to home buyers than a home filled with natural light. Remove heavy draperies and window treatments from the windows then have them professionally cleaned. Install bright light bulbs and open every shade before showings to maximize the amount of lighting your home has to offer.
Update Floors
Hardwood floors continue to be a buyer's first choice. If you have a house full of carpet, consider replacing some of it – particularly in "entertaining" spaces such as the dining or living room with a solid surface such as hardwood or vinyl plank flooring. For spaces where you want to keep carpet floors, such as basements, bedrooms, or playrooms, examine your carpet to make sure it is in pristine condition. If it is a dated color or stained, replace it with fresh, neutral carpet to provide an immediate facelift. At a minimum, have carpets professionally cleaned, clean grout on tile floors, and polish hardwoods.
Do Not Forget Curb Appeal
First impressions are lasting. Home buyers will make a snap judgment about your home the minute they pull up in front of it. You do not need to re-do your entire landscape, but make sure the lawn is mowed and healthy looking. Cut back overgrowth on trees and shrubs, especially around windows and doors. Plant colorful flowers in beds, and fill flower pots with welcoming blooms. Clean off or put a fresh coat of paint on your door and put a new, clean welcome mat at the entry.
With these simple tips and tricks, you can take any home from "drab" to "fab." We wish you the best of luck in your selling process, and be sure to visit us monthly for more expert tips and tricks.