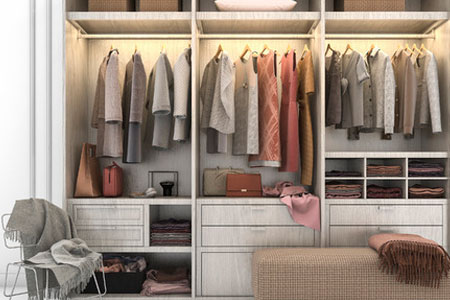 How to Maximize Closet Space
Do you love everything about your place except the closet space? Before you get discouraged, know that there are several ways you can maximize the limited space you are working with so that your closet feels bigger, and you can store your items without having to spend a fortune. In fact, you can create an efficient amount of space by organizing your closet. Today, we are going to discuss four tips for amplifying closet space. Let's take a look!
Get Rid of Old Clothing 
Do you remember the last time you wore those shoes? If not, you probably do not need them. Start by donating clothes, accessories, and other items that you no longer wear and use. Individuals often hang on clothes that they cannot fit because they feel that it will inspire them to lose weight. Since you can only wear the clothes that you are able to fit right now, it is best to get rid of smaller size clothes or completely store them elsewhere. 
Remove Clutter 
In an effort to organize your closet, you can actually clutter the small space. Remove plastic coverings and garment protectors from your clothing items. Not only can such accessories take up hanging space, but it may not actually protect your clothing. Opt for thinner hangers and get rid of the excessive ones that you have hanging idly on the rack. While cascading hangers can be tempting, they create more of a mess and makes it difficult to select clothing. 
Utilize Floor Space 
Put your floor space to good use by grouping long hanging items at one end of the closet and shorter pieces at the opposite end. This will open up your floor space considerably, allowing you to implement a small stacking shoe rack. You can use this shoe rack to store some of your shoes, purses, hats, and other accessories. 
Revamp the Upper Shelf 
There is nothing wrong with using storage bins on the upper shelf. Why not consider using shelf dividers? Shelf dividers can turn the space into small cubbies, allowing you to see your items easily. Dividers are a great method to use if you desire to add more clothing pieces to the upper shelf. They will prevent your clothes from toppling over and creating a mess. 
All in all, it takes a little bit of time, but you will get there. Soon your closet will be fully organized, and you will be able to wear things you forgot you owned. We hope you found these tips and tricks helpful, and be sure to visit our Design Perspectives page monthly for more home advice. Thanks for reading!