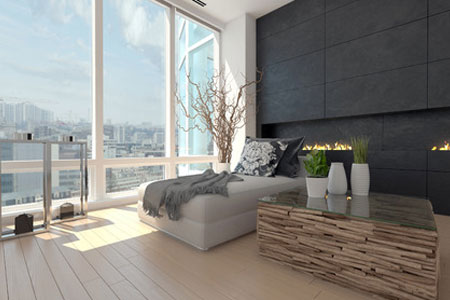 Incorporating Texture in Your Design
There are many elements and principles used when designing a space.  Interior designers, decorators, and architects all use these elements to help make space feel well-rounded and complete.  A well-orchestrated space will balance of all the design elements and yet feel functional with no obstructions.  However, design goes beyond just our visual senses.  A good design will incorporate all of the senses.  Texture is often a principle many people forget to use in their design theme.  To make your space feel and look great, you need to incorporate texture, and there are two types of texture to consider: visual and physical.  Here are some ways you can to incorporate both types of textures in your home's design.
Physical Texture
First, think about what you touch in your space. Your furniture, your flooring, even your walls, may all be touched.  Adding textures to these elements can make a room feel more inviting. You can add depth to a space by incorporating texture in the carpet or walls.  This can also be used by investing in fluffy pillows, silk blankets, or even rough-surfaced nightstands.  Every element has a chance to help enhance your space's sensory experience. Just remember that there is no wrong or right textures to add, but it is crucial to understand their purpose.
Visual Textures
That being said, not all textures need to be touched.  Visual textures can consist of elements out of your reach.  Think of a textured ceiling, or even wallpaper you will never touch.  Though we may not always be touching these elements, they can give a room more depth.  Many textures are used to help "give weight" to a room and make it feel more balanced.  Try to find a blend of visual and physical textures throughout your home for perfect harmony.
Textures may not be your initial instinct when designing your space; however, they play an essential role.  Do not neglect to add texture throughout your home since it will help balance the room. For more design insight, be sure to check out our other Design Perspective posts.