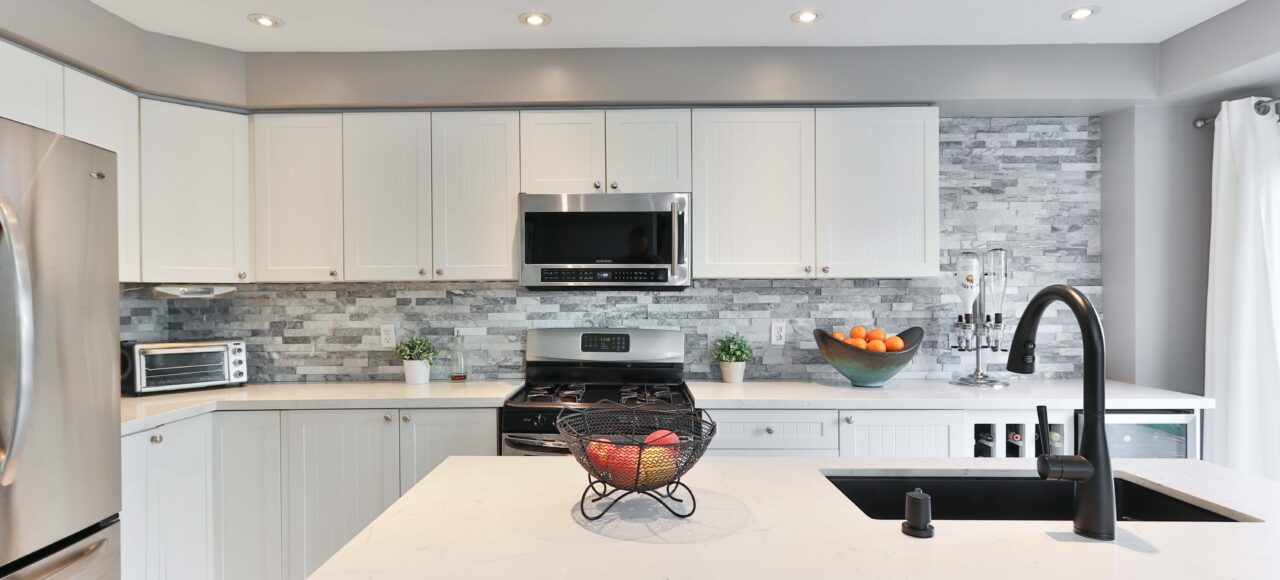 Kitchen remodels are a big commitment. Be careful of trends that will go out of style, or are too buyer specific. A helpful tip is to look at trends that increase the value of your life and home. The following tips have staying power, but also address convenience, lifestyle needs and enjoyment!
Transitional design – Contemporary designs can often be cold while keeping a busy kitchen clean and uncluttered is sometimes a challenge. You can overcome this challenge by using transitional design, which combines both traditional and contemporary elements while allowing you to use the old and new and eliminate kitschy fads!
You can't go wrong with white. Try layering white by using white walls, white cabinets and white tile backsplashes. White never goes out of style!
Want some color? Try neutral grays with pops of color – gray is close enough to white that you can use in all areas of the country by adding warmth with wood floors, or light and airy touches with pops of color. Just don't overdo the color, a little goes a long way!
Flooring has come a long way since your last remodel! Luxury vinyl tile (LVT) and luxury vinyl plank (LVP) flooring is waterproof, looks like the real thing and is easy to maintain.
Quartz countertops – Quartz has been rated the toughest material for countertops, it resists burns, cracking and scratches. Quartz comes in a variety of solid colors and the look of real granite. Quartz beats natural stone in toughness, ease of cleaning and does NOT have to be sealed every year like granite.
Refrigeration – With today's busy schedules, rethink your refrigeration needs. Add a wine cooler for the adults, add a juice/water fridge for the children. If you love to cook and take it seriously, add a counter-height produce fridge to your island. Add refrigeration where you need it!
LED lighting – Kitchen LED lighting is a wonderful way to add lighting to your prep area while providing esthetically pleasing touches to your kitchen. Add rope or cove lights to cabinets, under cabinets, and recessed canned lighting. LED lighting creates ambiance, and comes in soft to bright white, and a multitude of colors. LED's are extremely efficient, lasting five times longer than standard bulbs. They emit very little heat, so you can keep the lights on forever!