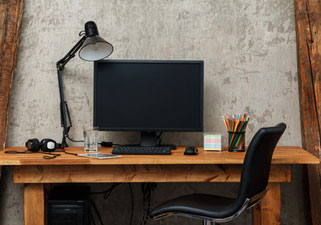 Unique Ways to Create an Office at Home3
Have you dreamt of having a home office, but do not know where exactly to put it? There is no need to worry! With our eight unique ideas, you can have a fully-functioning office without any compromise. Let's get started!
Unique Ways to Create an Office at Home:
Utilize Your Hall Closet.
If you have an empty hall closet, you can take advantage of the extra space by clearing out the shelving and making it into a mini office. You can even remove the doors to make it more like a cubby rather than a closed-off area. But if you enjoy the doors, keep them on for added privacy. 
Incorporate a Room Divider.
Room dividers are a great solution for open floor plans. If you have the space, add a room divider to help section off where your office will be. You can add the office in a tucked away corner of the room to add privacy and free yourself from distractions. 
Use Wall-Mounted Pieces.
If you are living in small corridors, having a wall-mounted table and collapsible chair may be your best solution. This concept will save you time and space when it comes to working inside of your office. 
Carve out a Corner. 
Maybe you have an open concept and want to keep it that way. If so, you can carve out an empty corner of the room to create your home office. This way you can still work and socialize without feeling blocked off or disconnected from family or guests. 
Install Built-In's.
Built-in's are a fantastic concept for homeowners who have the space. Nowadays, you can even watch tutorials online to help you make them yourself. This is a budget-friendly solution for customization and personalization. 
Rearrange Your Living Room. 
If the back of your sofa is against the wall, you can pull it out and have your desk behind the back of the sofa. This will create a chic office space right inside of your living room. 
Go with Dual-Purpose Items.
Small apartments do not have a lot of each space to work with; therefore, dual-purpose furniture pieces are your friend. Using a dining room table that doubles as an office table can be functional and savvy. 
Make an Entrance.
If you have a large enough entryway, you can incorporate your office right at the entrance of your home. You may want to use a small desk and chair for this concept, but it will help with sorting mail and keeping organized.