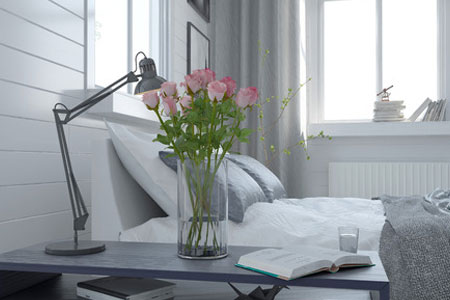 Simple Bedroom Updates for Any Budget
Are you in dire need of an updated bedroom, but do not have the budget for a full remodel? With our ten simple tips, we can help you upgrade your bedroom decor on any budget. Let's get started! 
Simple Bedroom Updates for Any Budget: 
Embrace Texture. 
The five senses are an essential factor of any design. You want to make sure that you focus on a person's feelings when they walk into the room to make them more intrigued. A vital sense that homeowners often overlook is "touch." So often, we focus solely on the softness of an object rather than the texture of an object. When you are updating your bedroom, try to incorporate more textures into your space. Whether you are adding textured pillows or curtains, you should focus on the different types of "feeling" you can bring into the space. 
Fresh Decor Pillows. 
Speaking of pillows, an inexpensive way to change up your room's design is by swapping out your current decor pillows. Add in some new designs to change up your room's look for a fraction of the price. 
DIY Headboard.
Do-it-yourself projects are more popular than ever nowadays. Homeowners are empowering other homeowners to take on the challenge and do it themselves. A great place to start is by making your own headboard. From palette boards to recycled books, you can have a one-of-a-kind headboard without breaking the bank. Plus, with do-it-yourself items, you are guaranteed to have a completely original piece.
No Shade. 
Take a look at your current curtain situation. Do your curtains allow light to flow throughout the space? If not, you should change them out for a pair that does. Having natural light flood the space can open your room up and make you feel more awake in the morning. 
Lots of Lights. 
Adding more lighting to your room can brighten up your space. Try incorporating lights near your bed and by a mirror to reflect the light. 
Rearrange. 
If you are bored with your current design, try rearranging your furniture. This is a simple way to get a fresh outlook, and it does not cost any money to the homeowner. 
Dramatic Contrast. 
Try and add a little bit of contrast with the color scheme you use in your bedroom. Whether you decide to repaint your walls or swap out some decor pieces, find the contrasting color to your design and incorporate it. 
Patterns, Please. 
Patterns are a fantastic way to add depth without spending a lot of money. You can subtly add patterns throughout your fabrics in your room to add personality.  
Mix Match.
Nowadays, furniture does not need to be the same color. Adding different colored furniture makes your space more authentic and attractive to guests. Try adding furniture pieces that complement each other, but that are not identical. 
Continuous. 
Some homeowners say that painting their ceiling the same color as their wall makes their room more relaxing and calming. While you repaint your bedroom, you can try this tip for a more serene oasis. 
What was your favorite budget-friendly tip?