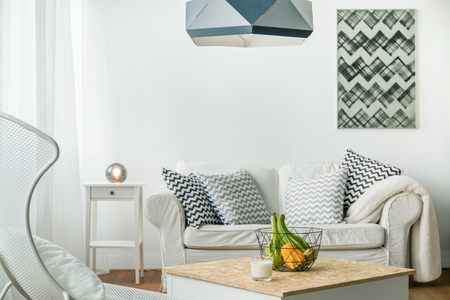 Design Secrets for Your Small Room
Whether you have recently downsized or you are planning on moving to a smaller home, you have been faced with the challenge of decorating a small space. Small spaces have a lot of charm and character. Just because they are not equal in proportion does not mean that they are not equal in potential. Today, we are going to help you tackle your small room design challenge with our top eight design secrets. Let's get started! 
Design Secrets for Your Small Room:
Believe it or not, large area rugs are actually great for small spaces. A small rug will extenuate the fact that you have a small room. Instead, we recommend opting for a large area rug. Large rugs will pull together the room and make the space feel bigger than it actually is. Just make sure you put the main furniture pieces on the rug to help bring together the entire look. 
The best-kept secret for small rooms is utilizing dual-purpose furniture. A lot of furniture pieces can even have hidden storage compartments making it perfect for your small space. When in doubt, we recommend buying a multipurpose furniture piece for your little area. 
Colorful walls can make a small room feel smaller; to help make your room feel more welcoming, we recommend sticking to neutral wall colors. Neutral tones will help to create a more comfortable and inviting space. 
If you are looking for a pop of color in your space, add it with colorful decor pieces. A splash of color can help add to the overall design without being too distracting. Try incorporating little items with bold statements to bring the room to life without overwhelming the design (i.e., a bright vase). 
Interior designers recommend veering away from accent walls in smaller spaces because they tend to accentuate the short walls that you have. It emphasizes where your wall starts and ends which in essence, creates a smaller looking room. 
An excellent solution for a small room is using light-weight, sheer curtains. Bulky curtains tend to weigh down a room and leave it with little to no natural light. 
A top design secret for small spaces is using furniture with legs that lift the piece off of the ground. If your furniture lays flat on the ground, it creates a bulky appearance and tends to leave the room feeling heavy. Instead, opt for pieces where you can see through to the ground underneath to create a visual illusion that the space is bigger than it actually is.
Emphasize Vertical Appeal. 
The best part of a small room is its vertical factor. When in doubt, emphasize your room's vertical appeal. You can do this by purchasing curtains that start higher up on your wall and go to the ground. This helps create the illusion that your room is taller than it actually might be. 
We hope you enjoyed these tips and tricks. Let us know below which idea was your favorite in the comment section. Thanks for reading!