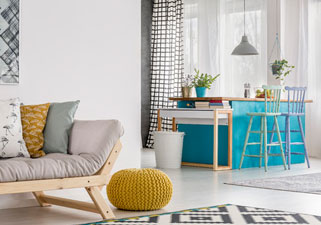 Adding Texture into Your Home's Decor
Want to make a significant impact with your home's decor? We often look to color and pattern to add emphasis and flair; however, texture can help you create a bold statement. Every great designer knows that no room is complete without a hint of texture.
In interior design, texture refers to the surface quality of materials. From shiny metal to dull plastic, every surface has texture. In short teams, texture refers to how an object feels. It is essential to the design scheme because it adds dimension and visual interest to space. In fact, rough surfaces create an intimate setting while smooth texture creates a sleek and open atmosphere. It is also considered to be essential to the design strategy because it creates balance. Just think, a room full of similar items tends to look flat and dull, but a space with luxurious texture adds interest and intent.
Are you interested in learning how you can implement texture in your home's decor? Keep on reading!
1. Using Texture in Your Home:
To transform a room using texture, you have to use it the right way to achieve the desired effect.
First, you will want to determine the desired look. What type of look are you trying to achieve? Do you wish to create a cozy and comfortable setting? If so, you will want to select soft and plush fabrics as well as woven materials. For a more streamlined look, you might want to opt for lacquer and glass surfaces.
2. Add Some Balance:
In a room with sleek floors and surfaces, you will want to add materials with furry or patterned textures to balance out the design. Stick to no more than three different textures within a single space. If you go over three, the design may feel weighed down and hectic. To help keep the design purpose-filled and driven, we recommend incorporating texture into specific areas with intent.
3. Use Texture as an Accent:
Instead of using a color scheme as an accent, consider using textures. Textiles can be great textural pieces that can accent your walls and furnishing. You can incorporate them into your design for a fun, unique twist on an everyday look.
4. Develop Lighting Strategy:
Different textures all have a unique way of using lighting. Some surfaces reflect lights while some cast shadows; therefore, you have to play around with different lighting schemes to create the perfect look.
5. Layer Up:
If you seek to create a super dramatic look, you may want to try layering textures. You can layer items like rugs, throw blankets, pillows, and wall art to achieve the perfect look.
Be sure to check back monthly for expert advice and tips. Thanks for reading!